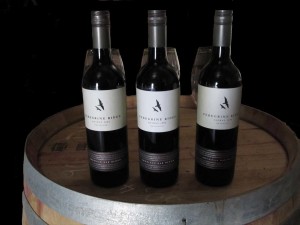 The vines are pruned to yield small quantities of intensely flavoured fruit with our objective being to crop at only 1-1.5 tonnes per acre (2.5-3 tonnes per hectare). Our vineyard has 5 different Shiraz clones planted, which adds to the complexity of our wines and contributes to our ability to produce 7 different Shiraz wine styles.
Peregrine Ridge wines are estate grown high on the Mt Camel Range on deep Cambrian soils that face the morning sun. Fruit integrity is assured by the watchful eye of local Peregrine Falcons. The unique terroir of our vineyard site enables the fruit to ripen slowly over the growing season, with the higher altitude fruit ripening about 3 to 4 weeks later in the season.
Our 2023 Christmas Specials have been released and are available here.
This wine is matured in seasoned and new French and American oak barrels for 12-15 months depending on the vintages used in the cuvee, and is then bottle fermented for a further 16-30 months. The wine is typically disgorged three times – the first disgorge occurring after approximately 16-18 months on lees; the second at around 24 months and the final disgorge at 30 months. This enables the blend to fully develop its bottle fermentation characteristics, whilst keeping up with demand. This is a medium bodied wine style that is best served chilled. Typically the bouquet displays sweet plums and cherries, with spicy overtones and the palate is of intense spicy plums, cherries and sweet berries. This wine style is perfectly balanced and has a soft, lingering finish which makes it exceptional drinking early and equally well suited to medium term cellaring. We suggest serving this wine with pre-dinner treats including pate and cheese, Asian style cuisine and sweet meats. It is also great with shortbread, fruit cake, mince pies and other sweet Christmas treats.